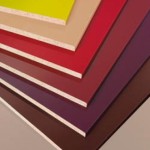 Product Range
In order to satisfy particular customer's requirements, we always seek to offer standard products such as Melamine Boards, Laminates and ABS edgings, complimented with various specialist items, which serve to link with the manufactured finished product. Such an item would be REHAU TAMBOUR UNITS.
All of our product lines have been thoroughly researched over many years as to their suitability to meet our customers ever demanding need for high quality, competitive price and excellent service. We employ a continual monitoring of manufacturing suppliers to ensure that all standards of quality, price and service are maintained. This enables our company to continue offering first class products with an absolute conviction that enables us to maintain our long established position in the industry.
The primary Melamine Board and Laminate we supply is sourced from a highly reputable European manufacturer, namely;  Kronospan by Kaindl.
This company enables us to offer an extensive array of designs, colours and core materials either ex stock or made to order.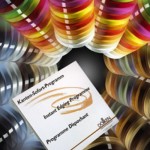 Our ABS edgings are sourced from the best German manufacturers namely, Dollken and Rehau, both of whom are renowned for quality and innovation in edge band design. In addition to the normal standard edgings, additions include 3D Acrylic, High Gloss, Two in One (Duo) plus Fusion/Pro edge edgings.
An ever increasing demand from Architects and Contractors for ABS edging to be specified because of its eco-friendly properties, is borne out by the increase in the stock levels of this material that is now available. The variety of colours, designs and sizes now available in ABS edgings make a perfect partner for the construction of furniture fitments used in Hospitals, Offices and Shop-fittings.
In addition to the range of Thermoplastic edging, we offer REAL WOOD VENEER EDGING. This high quality veneer edging is offered as a through and through same specie material, with widths and thicknesses to suit even the most complex requirement.
A further addition to our range are REHAU TAMBOUR DOORS in Metallic Line finishes of Aluminium and Stainless Steel effect.
The Vetro Line range of TAMBOUR DOORS also available from Rehau comprises 4 Glass finishes – Black, White, Smoke and Satinato (Opaque) – slat width is 50mm and made from 3mm thick toughened glass.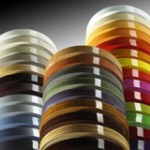 Our long term association with board and edging manufacturers within our industry, allows us to offer a vast range of product to suit your specific requirements.
In order to keep your company's products at the forefront of the market place, we are always pleased to offer advice, combined with samples based on the latest innovative colours and designs available in Melamine Boards, Laminate and ABS edging.
PRODUCT RANGE
ABS Edging – Unicolours, Woodgrains and Fantasy designs
High Gloss ABS edging
3D Acrylic edging
Two in One (Duo) edging
Fusion/Pro edge edgings – Unicolours , Woodgrains and Fantasy designs
Kaindl Melamine Faced Chipboard and Laminate
Rehau Tambour Doors