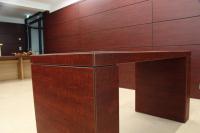 STANDARD LAMINATE
Sourced from one of Europe's finest producer of Decorative Laminates, we offer a wide range of colours, woodgrains and fantasy designs.
The standard sizes on offer from the stock programme is: 3050mm x 1350mm x 0.8mm, offering a great degree of flexibility in optimisation of the laminate sheet.
This laminate is only suitable for flat bonding.
Post forming quality is available, subject to MOQ's.