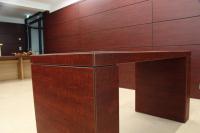 STANDARD LAMINATE
Sourced from one of Europe's finest producer of Decorative Laminates, we offer a wide range of colours, woodgrains and fantasy designs.
The standard size on offer from the stock programme is:
3050mm x 1350mm x 0.8mm,
offering a greater degree of flexibility in optimisation of the laminate sheet.
This laminate is only suitable for flat bonding. Smaller quantities can be despatched directly by courier.
Post forming quality is available, subject to MOQ's.